"Travel as much as you can, as far as you can, as long as you can. Life isn't meant to be lived in one place."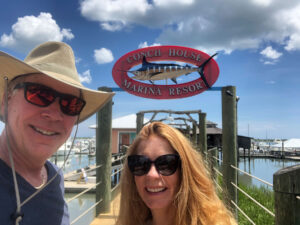 If you stay in one place does the world move on without you?
Do the boldest moves bring the biggest rewards?
To us, life is about adventure, the people you meet, the relationships you create, the places you reach, and writing your own life's novel.
2020 has brought hindsight, foresight, the clichéd "pivot"… well, time for us to PIVOT…
After a quarter century in our beautiful town of Kennebunkport, we are ready to write our next chapter. A grand re-imagining, a relocation… a bold move to America's oldest city – beautiful coastal St. Augustine Florida.
St Augie, local-speak, was established in 1565. Henry Flagler, Florida's bold hotel mogul dubbed St Augustine "Newport South" in 1880. For us, it is K'port South … with its charming vibrant downtown, amazing architecture, deep history, limitless boating, natural beauty, beaches, and friendly locals. An extra check in St Augustine's column, its endless summer in Northeast Florida, aka: no shoveling snow, no need to store the boat for eight months.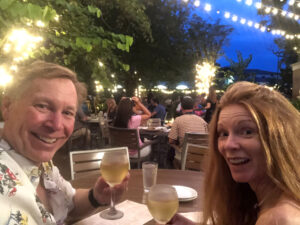 We are excited to explore this new destination, meet new friends, retrain our brains, expand our horizons. Paddleboarding with dolphin, rays and manatee, biking and boating year round, yes please! Ponce De Leon found the Fountain of Youth here four centuries ago, so we say "grow bold or grow old."
St Augustine is a college town, a Mediterranean-style resort city, a social hub of 14,000 residents, with fabulous restaurants, and year-round festivals – Nights of Lights at Christmas, Music Fests, Food, Wine and Art Festivals – sounds familiar!
Contributing to this attractive community is our goal, relocating our sense of belonging and purpose. We will continue our global travels and family ski trips too. JAX Int'l airport is just an hour away. Orlando is under two for hops across the pond.
We have loved Kennebunkport, our community, our friends beyond words. We vowed to stay and raise our kids here (in 1993), and we are proud that we did.
We love our amazing circle of friends to the depths of our soul – that doesn't change amidst this new venture and leap of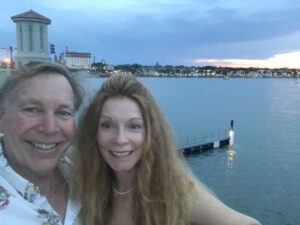 faith. If home is where the heart is, then you know you have a place in our heart, and our home. True friends remain … and we'll be back to visit Maine. Some of our best moments have been in the 207, Kennebunkport Festivals, boating by The Bushes, Preludes, sunset happy hours with the best of friends … our glasses, like our memories, remain brilliantly full … resplendent.
This is a new beginning, not an end.  "The future's so bright, I gotta wear shades"… remember that 80's song? Well we are donning our sunnies (Aspen's code for sunglasses). So, if you see Heather in shades, she's likely hiding her tears, both happy & sad, and channeling her fears. It is a brave new world as we continue life's adventure …
Love and thanks to friends and family for your support and kindness and forever connections.
Xo – Heather & Greg
"How lucky I am to have something so special that makes saying goodbye so hard," – Winnie the Pooh

More of Heather's favorite travel quotes
And  Luxury St Augustine Private Home Rental